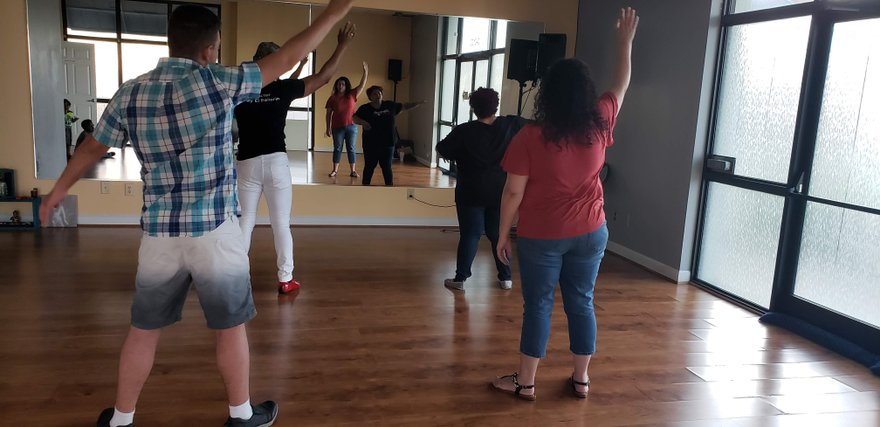 Bachata dancing gives an excellent workout to various muscle groups. It integrates the whole muscular system and allows you to exercise the muscles in your body's lower portion. In addition, it makes the joints more flexible and strengthens the bones. In this class we will do bachata to burn off our calories.
The class consists of a warm-up with a concentration on breathing and undulation exercises, along with across-the-floor and open dance combinations. The unique movement, routines, and rhythms introduced in class will require dancers to think more intently about space, time, and musicality. All movements and music are based from African movement to include AfroBeats, Traditionally African movement, and more.
Bachata is one of the hottest dances on the club scene today. With sexy hip motion, compelling rhythms, close embrace and intricate arm movements and body positioning it is the modern-day dirty dancing. We offer Kids and Adult classes. All levels welcomed.
We specialize in social dancing – whether you want to hit the club scene or dance at social functions, we can get you dancing! We believe in quality training and have a selection of choices for you to choose from. Walk-ins welcome! Our classes accommodate students to join at any time. All classes are taught in a systematic way until you move to the next level. We offer the following levels of dancing: Absolute beginner, Improver, Intermediate and advance. We have designed these classes for people who are absolute beginners. Here you will learn timing, leading & following and how to properly turn.
Salsa is the Spanish word for "sauce" denoting a "spicy" and "hot" flavor to this popular dance style to a complex mix of many different rhythms. Our classes provides a strong foundation in Salsa with emphasis on lead and follow through techniques that take you into becoming an experienced social dancer who understands balance, center, control. We offer Kids and Adult classes. All levels welcomed.
Heels dance is a solo dance genre often featured in routines seen in pop and hip-hop music videos. Its techniques and dance vocabulary derive from a wide range of dance styles used in music video choreography as well as traditional dance genres.
Twerk class for every day men and women to learn the basic fundamentals of twerking. From booty shaking, body rolls, hip, booty and cheek isolation as well as hair whips and more. Twerk moves are broken down step by step to help anyone master the basics. Each class is 45 mins paired with a warm-up to get you started.
Kizomba is both a music genre and a partnered dance originating in Angola. Kizomba has also been described as the "African Tango."
The dance is known to be slow and smooth, and flows with movements that are somewhat harsh and requires a lot of flexibility in the knees for the frequent bob up and down motion of the dance, lower body, hip movements, etc. Our chief goal is for dancers, especially Kizomba dancers, new or improver, to learn to experience a different dance each time especially when dancing with the same partner to the identical song.
ABOUT

FAYETTEVILLE LATIN DANCE